On Sunday February 19, the music department is hosting our Mattress Sale Fundraiser! Mattresses, adjustable power bases, pillows, protectors, sheet sets, bed frames, CordaRoys convertible chairs & more! Save money and support the Fillmore Central Music Department with every item purchased! Bring in the attached coupon for FREE delivery with the purchase of any mattress! This year our goal is to raise $5,000 in 2023.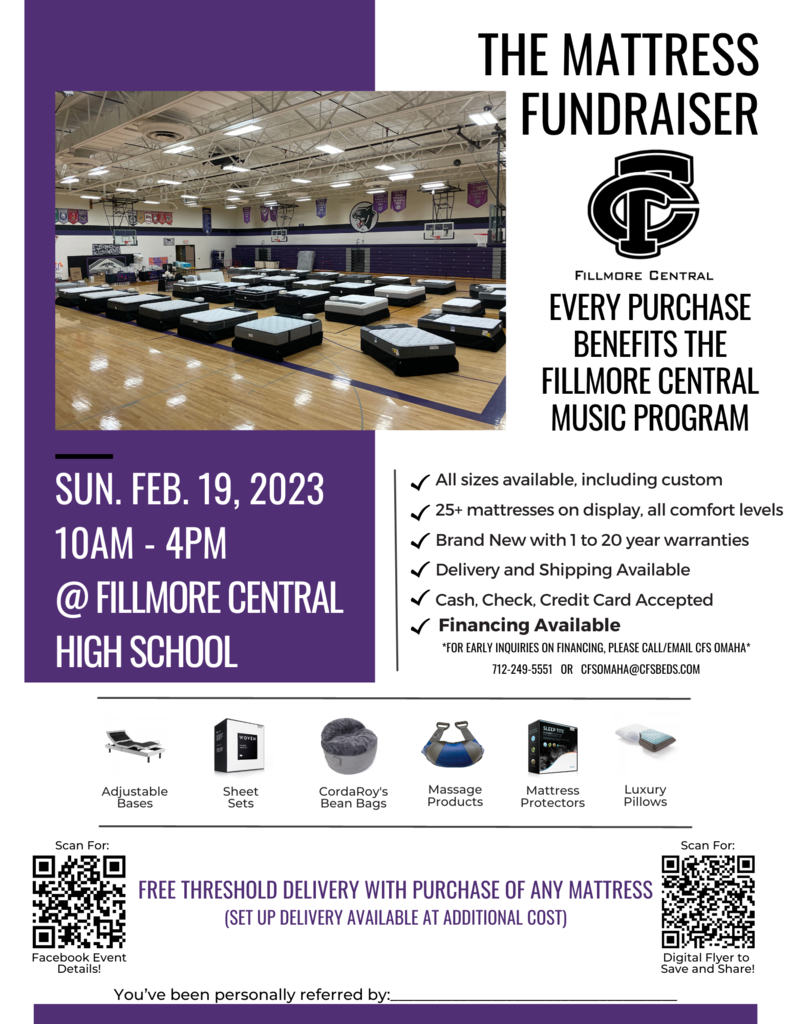 Speech Meet @ Thayer Central Saturday, January 21st #FCPantherProwl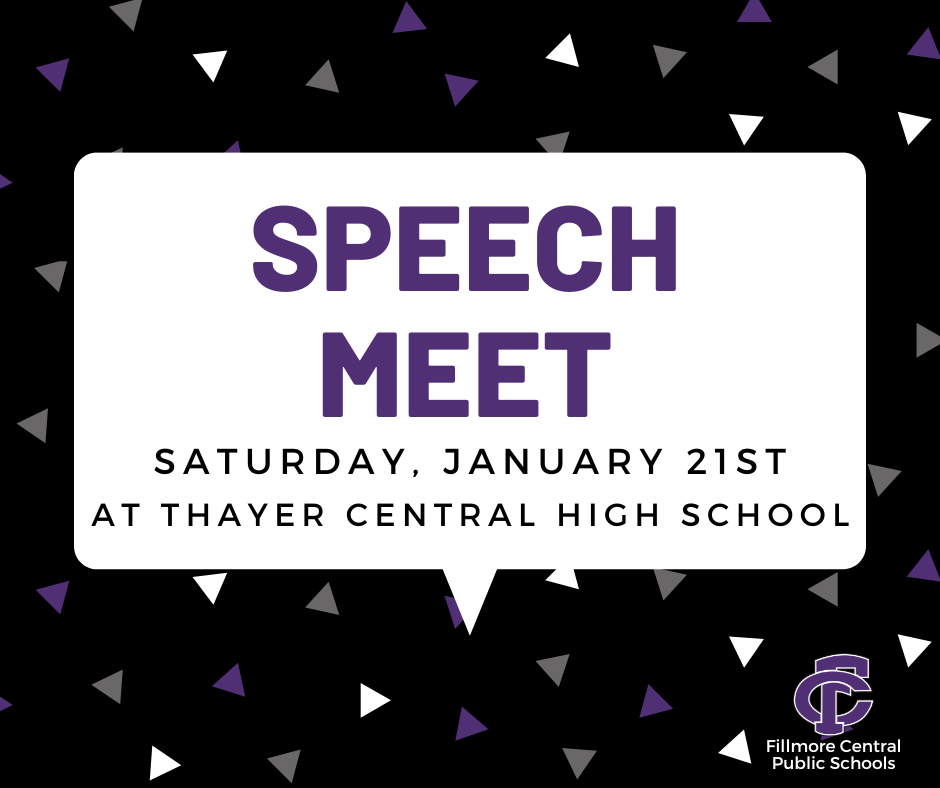 💜Boys and Girls Varsity Wrestling @ Louisville 💜 Friday, January 20 @ 2:30pm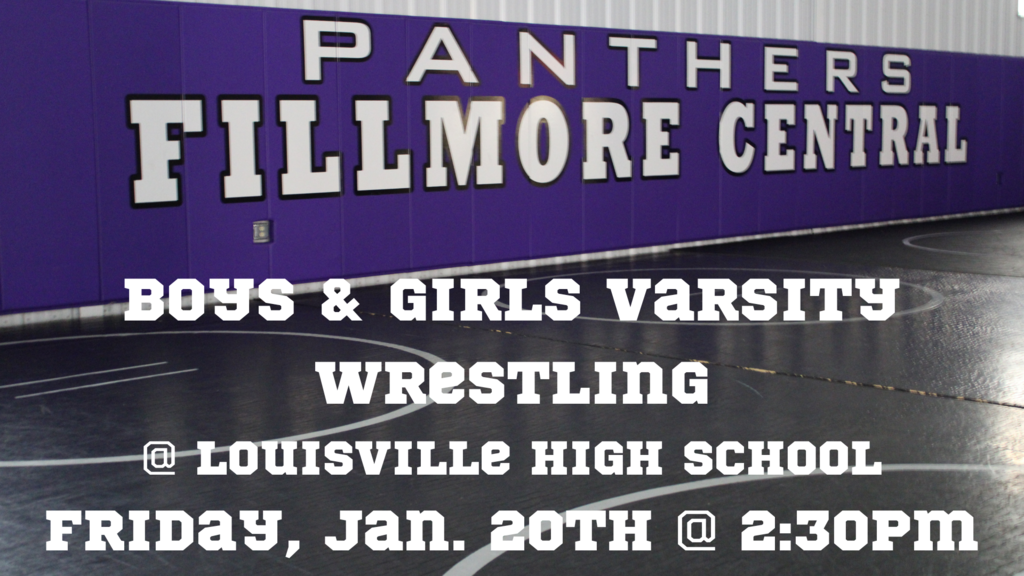 💜🏀 Panther Basketball vs Tri County💜🏀 Friday, January 20th 4:30pm Girls JV 4:30pm Boys JV (@ FCMS) 6:00pm Girls Varsity 7:45pm Boys Varsity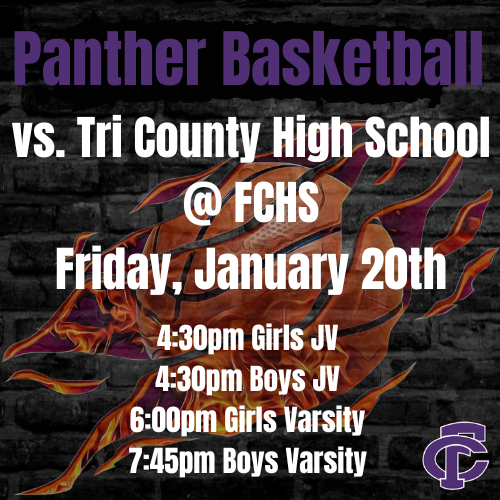 ACTIVITY UPDATES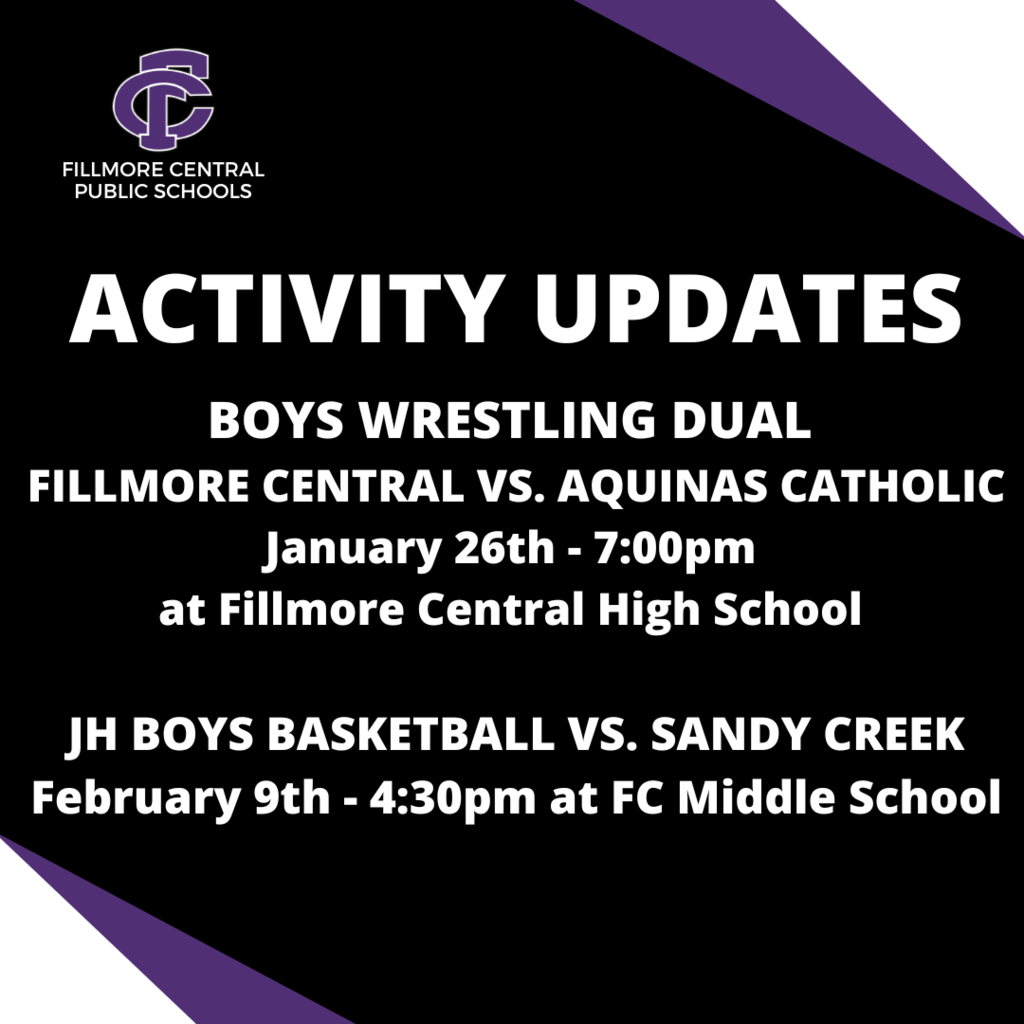 The FC FFA Boosters are having a chili and hotdog feed on Friday, January 20 from 5-8pm during the FC vs. Tri County basketball games. Come out and support them.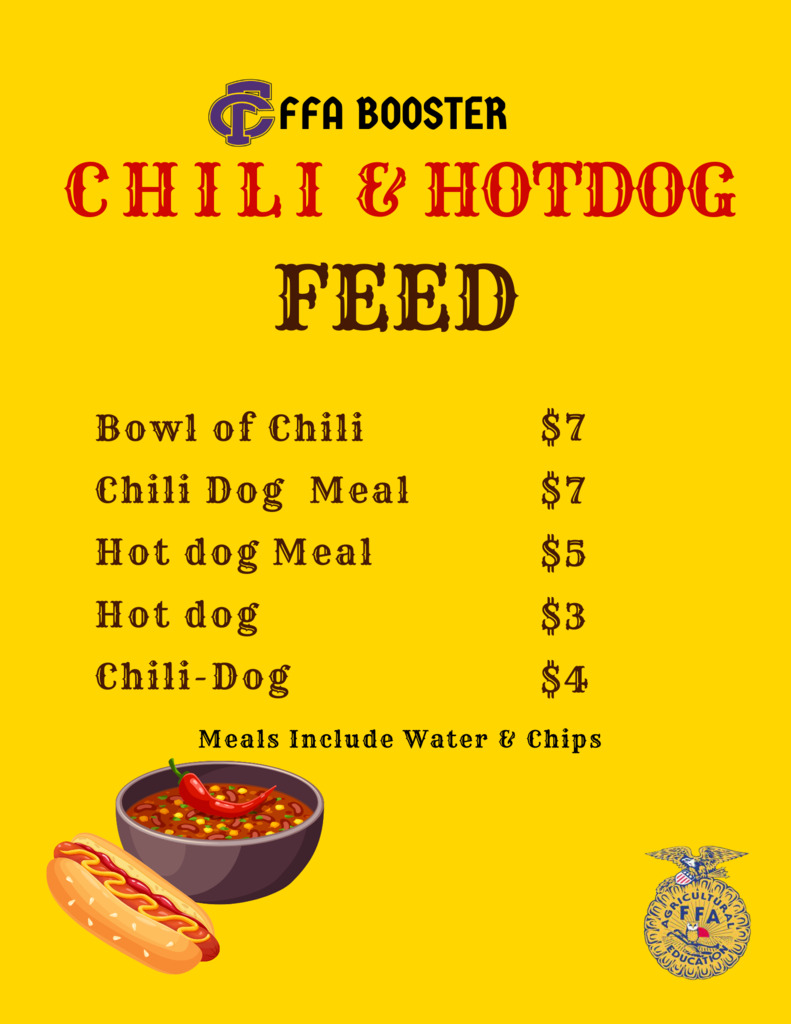 NO SCHOOL There will be no school or activities today, Thursday, January 19th due to weather. #FCPantherProwl
LATE START Due to weather conditions, there will be a two hour late start Thursday, January 19th. There will be no morning preschool. Buses run accordingly. #FCPantherProwl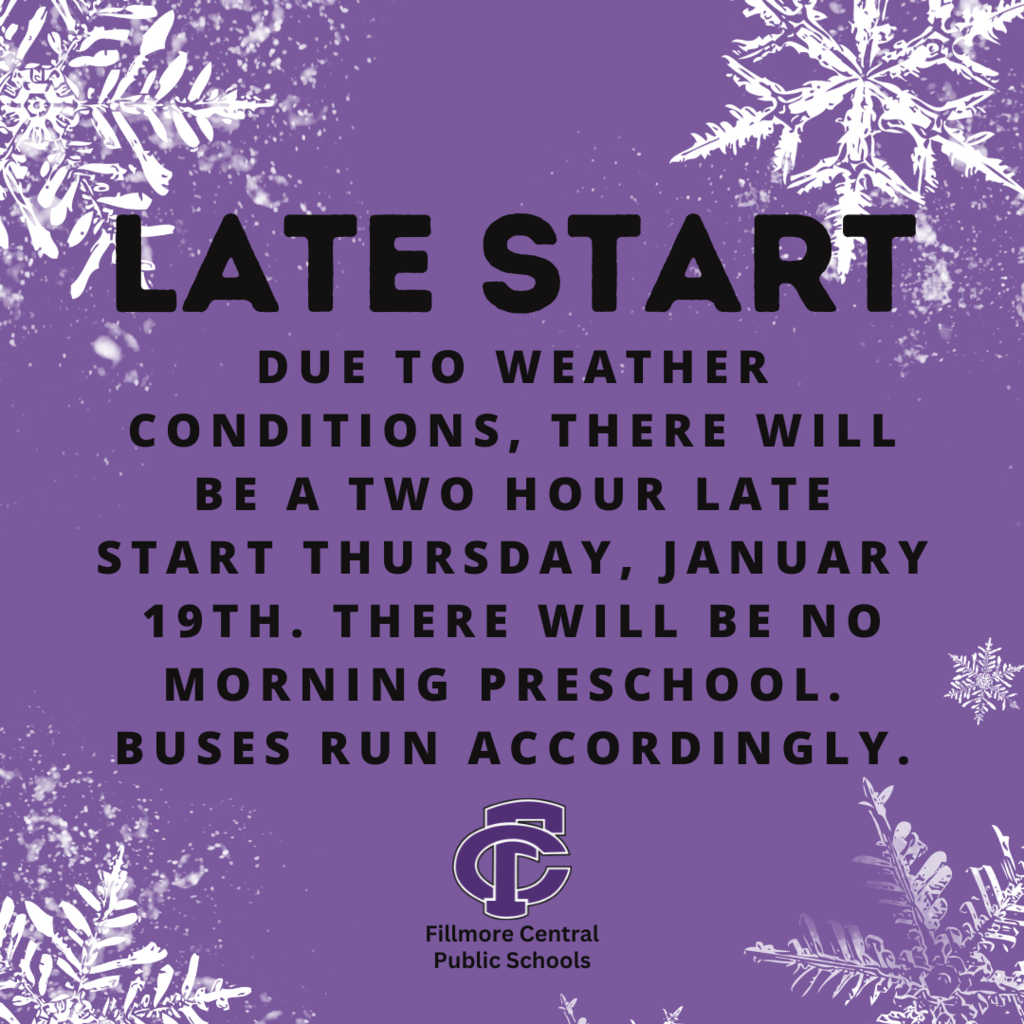 Due to the impending ice and snow storm beginning tomorrow morning, there will be no school, Wednesday, January 18th. #FCPantherProwl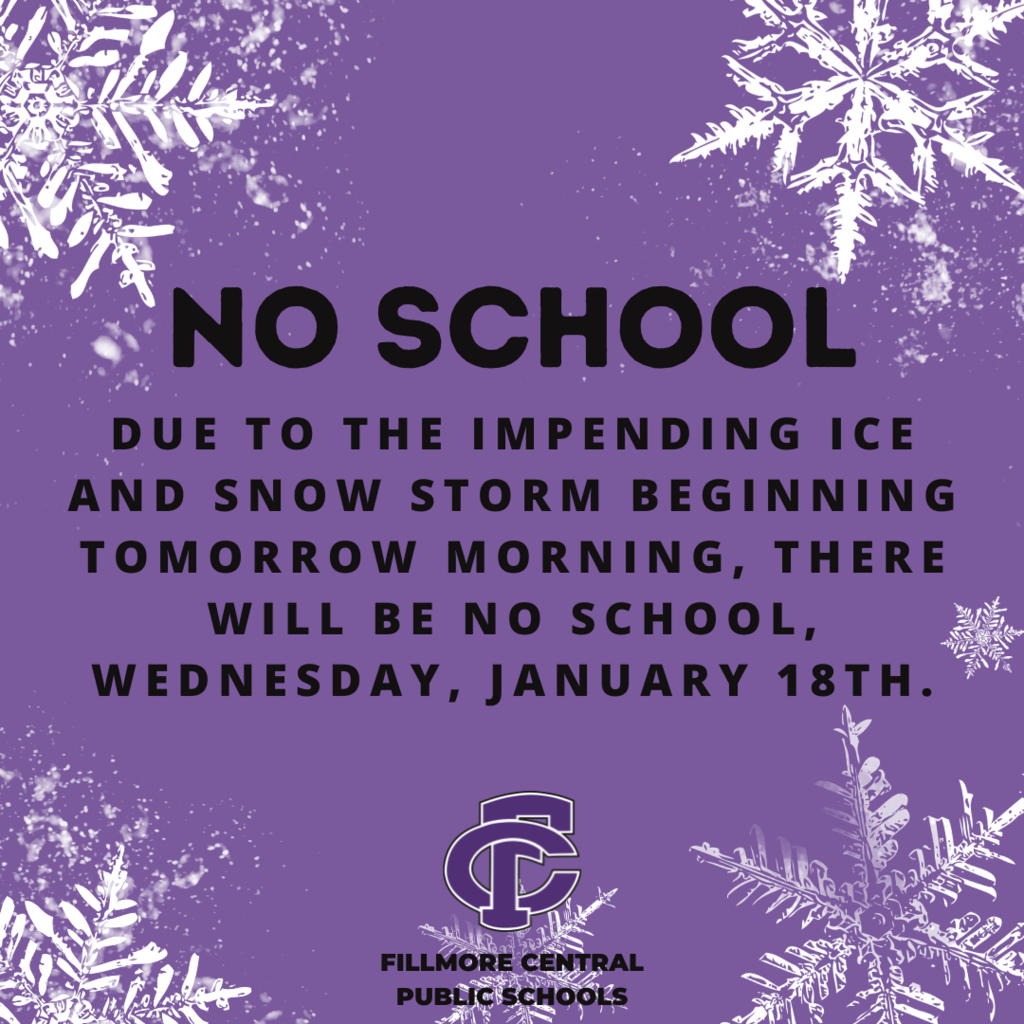 💜🏀 JH Boys Basketball vs Tri County💜🏀 Monday, January 16, 4:30pm @ FCMS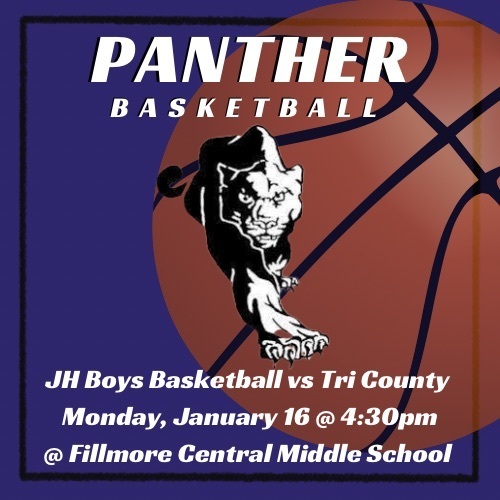 Weekly Events January 16th - 21st #FCPantherProwl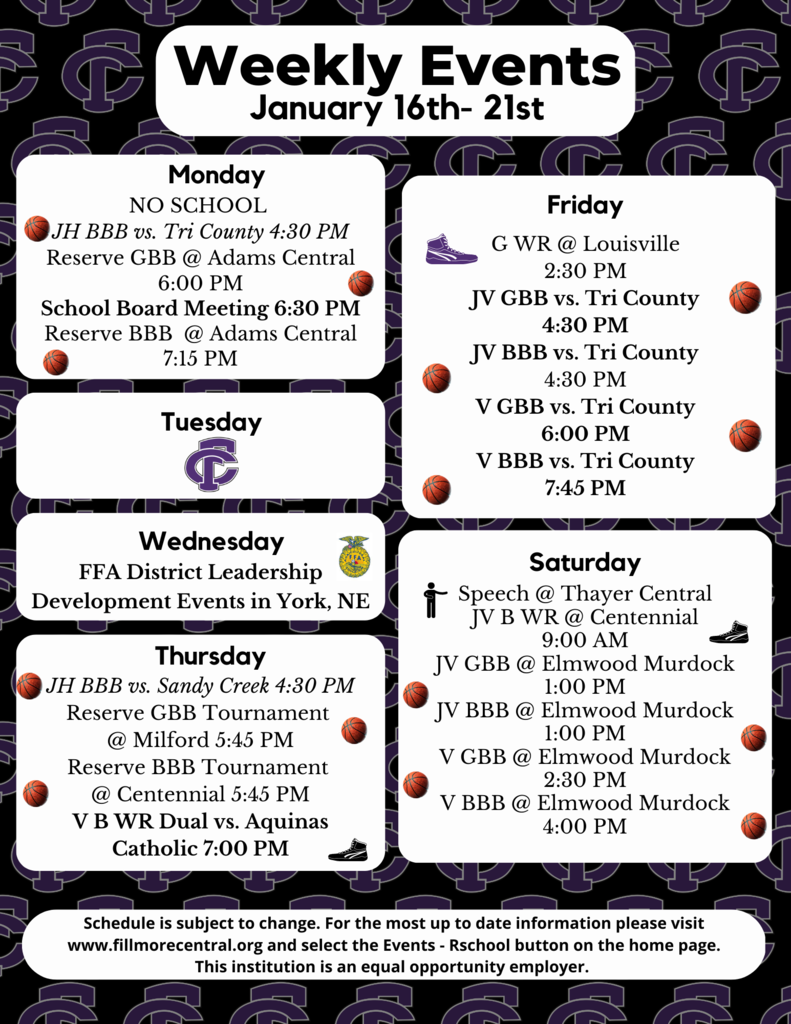 💜🏀 Panther Reserve Basketball @ Adams Central 💜🏀 Monday, January 16th Girls Reserve @ 6:00pm Boys Reserve @ 7:15pm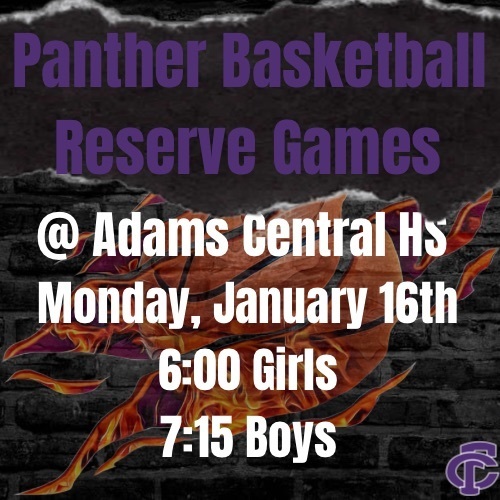 💜🏀 Panther Basketball vs. David City 💜🏀 Saturday, January 14 @ FCHS 1:00pm Girls JV 2:30pm Boys JV 4:00pm Girls Varsity 5:45pm Boys Varsity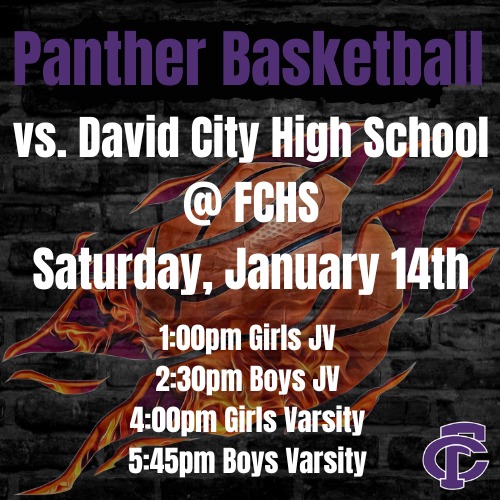 💜Boys Varsity Wrestling @ Gibbon 💜 Saturday, January 14 @ 9:00am

💜 Boys JV Wrestling @ Palmer High School 💜 Saturday, January 14 @ 9:30am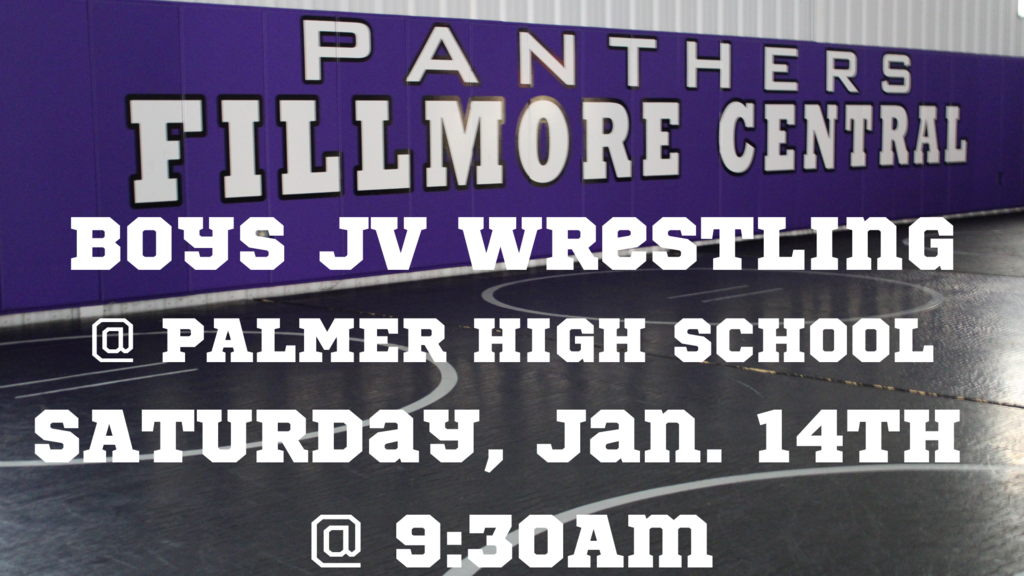 Tonight's middle school dance will be held in the wrestling room from 7-10 pm. Students may be dropped off and picked up at door H7 (weight room door). Pop/Water($2), and Pizza ($3 per slice or 2 pieces for $5) will be sold until we run out. The entry fee for the dance is $3 or a non-perishable food item. Once your student leaves they may not return.

💜 Girls Wrestling Tournament @ Superior 💜 Friday, January 13 @ 3:00pm

💜🏀 Panther Basketball @ Heartland 💜🏀 Thursday, January 12 4:30pm Girls JV 4:30pm Boys JV 6:00pm Girls Varsity 7:45pm Boys Varsity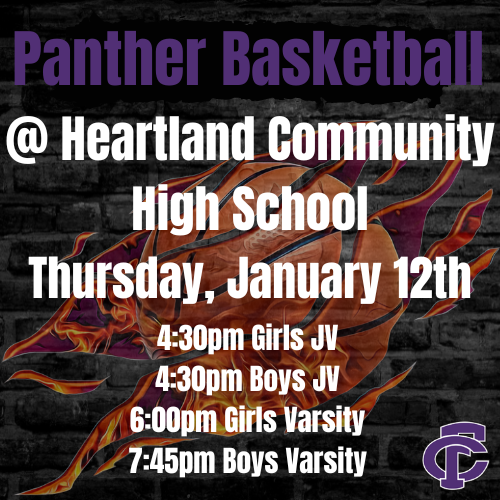 💜 Boys Wrestling @ Centennial 💜 Thursday, January 12 @ 5:00pm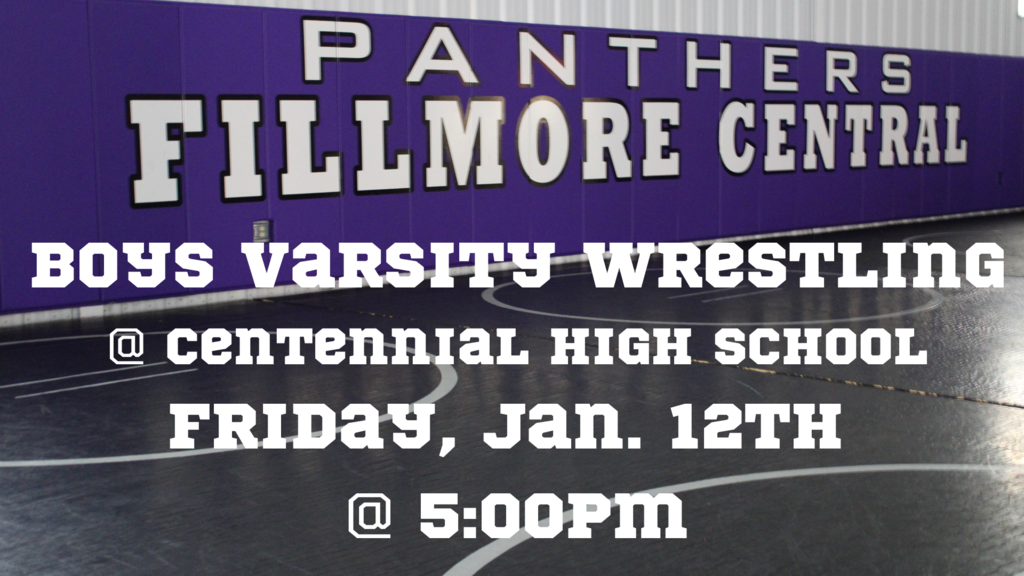 We are looking for 8-9 hours of basic daily cleaning and custodian work in Geneva. This could be accomplished with one full-time or two part-time employees. Full time employment comes with an outstanding benefits package of full-family health insurance, state retirement, life insurance and paid vacation and holidays. Part-time employment would come with a reduced benefits package. Hours would be late-afternoon and evening hours. Applications are available online at
www.fillmorecentral.org
under the careers tab, in the Superintendent's office – 1410 L Street, Geneva Nebraska 68361, or by calling 402-759-4955. Applications will be accepted until the position is filled. EOE