FC 25 Centennial 22 in 2nd set.

In Varsity VB, FC 25 Centennial 20 in set 1.

Weather Permitting... Tomorrow is national walk to school day. Students can arrive at the Geneva softball fields from 7:30-7:40am.

FC JV wins the match 25 - 22.

In JV VB action; FC 25 Centennial 18 In set one.
The JV FB game scheduled for tonight, 10-8-18, has been postponed.

We are playing --- the 7th and 8th grade football game at Superior is still on. Kickoff is scheduled for 5:30 p.m.

Mike Smith will be coming to speak at FCHS. He has set out to collect & distribute 20,000 pairs of socks to the homeless and less fortunate before Christmas. If you wish to donate - socks can be dropped off at the high school.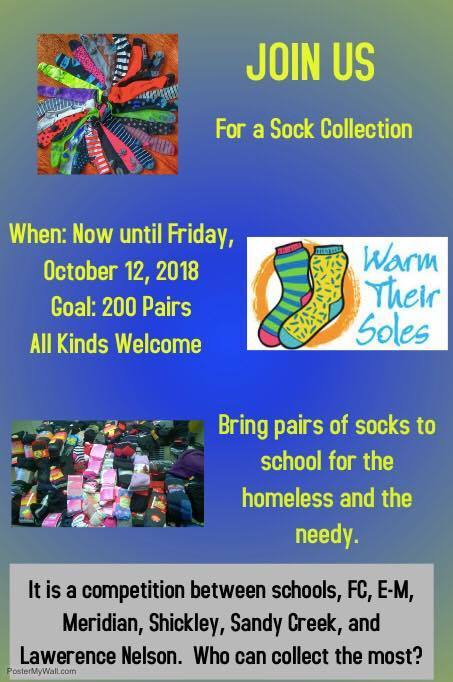 Fans planning to attend the District Cross Country meet at Branched Oak lake on Oct. 11th will need to buy a one-day park permit to gain entrance to the meet. This can be done at the park entrance.

Final in SB, Twin River 12 FC 2.

After 3, FC 2 Twin River 7

In District SB after 2 innings, FC 1 Twin River 1.
Due to the potential for severe weather, the FB game scheduled for 10-5-18 at Milford has been moved to a 5:30 p.m. start time.

FC wins the match 25-13 in set 3.

FC 25 Sandy Creek 19 in set 2.

In the first set, FC 25 Sandy Creek 15

District softball final FCEM-15 PC-7 FCEM will play tomorrow at 10:00am in Central City

In VB, FC JV's beat Sandy Creek in 2 sets.

District softball update. Middle of 2nd FIllmore Central-5 Polk County-0 Josie Kresak with 2 homers!

District softball final. FC-5 HSC-11 FC plays again at 4:00